Veteran
Original poster
veteran
senior
member
Joined

Feb 22, 2011
Posts

1,745
Reaction score

292
Points

166
Yo, everything is fine, but if you still want to read go ahead:
Almighty seems to be a trusted tbn member, but something has happened. I wanted to buy an amazon gift card and he told me I should go first. I went first and payed him $9 for a $10 amazon gift card. I waited for 20 mins for him to give me the code and I sent him 2 pms that he ignored. I then sent him a pm saying I had to leave soon so I need the code.
This time he responds back saying he has to go and just logs off with no mention of giving me the amazon gift card.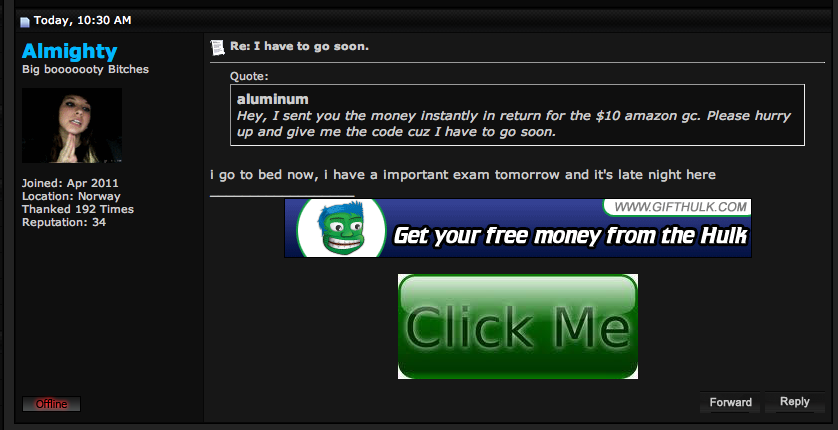 You are probably thinking, oh just wait for tomorrow, but then why does he log off the second I pay him and why the fuck does he try to sell me an amazon gift card if he is just going to get off.
Edit: Holy shit, I did not expect this to be so popular. I just wanted 1 or 2 people to tell me personal experiences with him to see if he is a scammer or not.
Another Edit: I do not want Almighty to fail his exam nor was I expecting him to get a call in the middle of the night. I thought he was just some kid taking some math test or something.